FISHEADS SAN JUAN RIVER LODGE
Cast to trophy sized trout 365 days a year with our friendly and knowledgeable fly fishing guides. Fisheads is the premiere fly fishing guide service on the San Juan River in New Mexico.
RATES & PACKAGES
BOOK ONLINE
ABOUT THE RIVER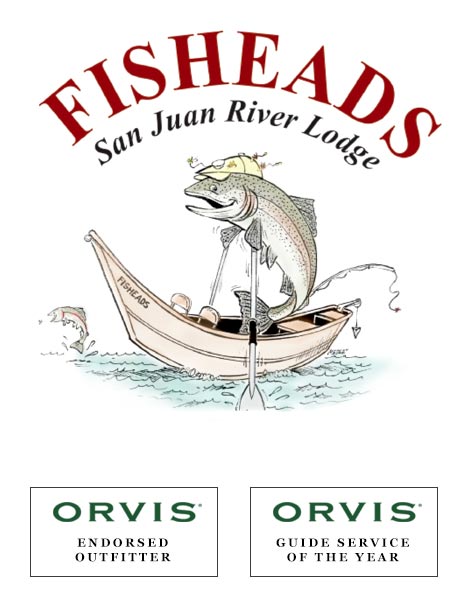 FISH & STAY ALL-INCLUSIVE PACKAGES
Our most popular packages.
See All Rates – Guide Trips Only, Lodge Only
Most Popular
6 Days Fishing
7 Nights Lodging
$2,831.50 per person / double occupancy
7 Nights Lodging
6 Days Float Trip
7 Dinners
7 Breakfasts
Single Person Rate $4,768
Book Now
Most Popular
5 Days Fishing
6 Nights Lodging
$2,389.50 per person / double occupancy
6 Nights Lodging
5 Days Float Trip
6 Dinners
6 Breakfasts
Single Person Rate $4,019
Book Now
Most Popular
4 Days Fishing
5 Nights Lodging
$1,947.50 per person / double occupancy
5 Nights Lodging
4 Days Float Trip
5 Dinners
5 Breakfasts
Single Person Rate $3,270
Book Now
Most Popluar
3 Days Fishing
4 Nights Lodging
$1,505.50 per person / double occupancy
4 Nights Lodging
3 Days Float Trip
4 Dinners
4 Breakfasts
Single Person Rate $2,521
Book Now
Most Popular
2 Days Fishing
3 Nights Lodging
$1,063.50 per person / double occupancy
3 Nights Lodging
2 Days Float Trip
3 Dinners
3 Breakfasts
Single Person Rate $1,772
Book Now
Most Popular
1 Days Fishing
2 Nights Lodging
$621.50 per person / double occupancy
2 Nights Lodging
1 Days Float Trip
2 Dinners
2 Breakfasts
Single Person Rate $1,023
Book Now
See All Rates – Guide Trips Only, Lodge Only
Fisheads San Juan River Fishing Reports and News
LODGING RIGHT ON THE SAN JUAN RIVER