At Fisheads San Juan River Lodge we take pride in giving all of our customers a great experience, from lodging and dining to fly shop, fly fishing and guide service we will do everything we can to make your trip the best it can be. But don't take our word for it, below you will find links to unbiased customer reviews on third party websites (Google Places and ORVIS).  If you are a past client please leave us a review by clicking here.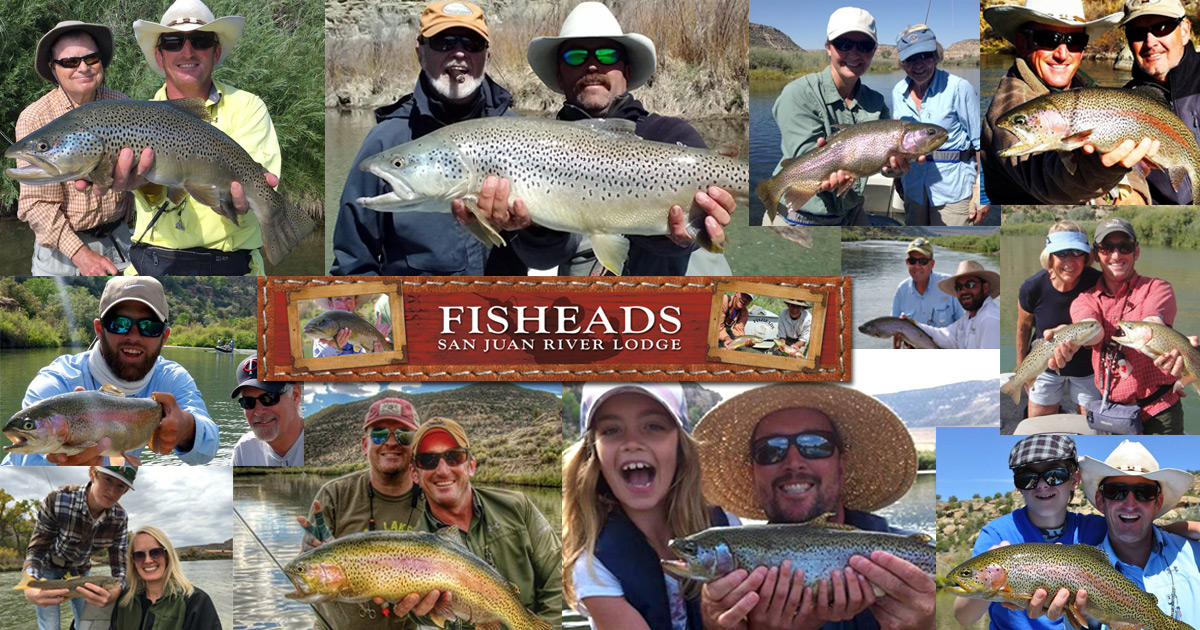 My wife wanted further her education in the art of Fly fishing. So last spring June we went for a couple of days Even though the water was changing our guide found the active fish and we ended up with a great time fishing. The staff was very accomidating and the food was very good. I would recommend fisheads to any fishead looking for a great time.
We had a great first experience on the San Juan River with Fishheads Guide Service. We heard Labor Day weekend is a tough time to fish the San Juan but thanks to our guides, Bubba and Phil, we caught plenty of large trout. The accomadations were nice as will. Thanks for a terrific experience.
I hosted some of my clients and colleges at Fishheads for 2days/3nights of fly fishing and everyone had an awesome time. Bubba, Peggy, and Chris did a outstanding job. All the guides were fun and experienced and we all caught a lot of fish. Fifty percent of our group had never fly fished before. The boat I was in landed 16 quality fish, 18" plus and 28, 12" to 16" fish in the lower river. We had a contest for the most fish so we went to the lower river to catch quantity verses quality. The second day we had 12 quality fish 18" plus fish and 54, 12" to 16" fish. The largest fish in our group was 25" rainbow. The food was super. We had prime rib one day and it unbelievable, Bubba is a great chief and host! Chris set us up in our own area in the back so we could dine by ourselves, we had 16 people. Thanks to everyone my our score is 10 for 10 and we will be back!
Came for a room while taking my son fishing on nearby Navajo Lake. Was given one of the riverfront rooms on the back strip they recently acquired. Rooms were just about right for a fishing expedition: I like the un-carpeted rooms knowing that there won't be embedded crud from previous occupants. It was clean, included a fridge and microwave and had an awesome view out the back overlooking the San Juan River. The small restaurant had very good food, and prices for the rooms and food were very reasonable. We did not sign up for the fishing tours, although I may try one next time (and there will be a next time.) What really impressed me was the willingness of the lake guide to help me find a great spot for my young son to catch his first fish. We had tried several areas on the lake our first two days, without success. When Nicole heard about our predicament she brought out a detailed map of the lake and identified two areas that she felt would be good spots for a young fisher to try. We took the boat out to the first area she recommended and within 30 minutes my son caught his very first fish - talk about a really excited young man. It was the highlight of our trip, and was way beyond what I expected since we had not signed up for their guide services. Thank you Nicole!
I have fished many of the best trout waters in the West and would rate the San Juan as among the very best. Chris, the owner of Fisheads really "gets it." From the moment you walk into his shop you are treated like an honored guest. Chris and his employees are eager to share their knowledge of the river and the fishing is truly off the charts. I can not remember catching more big trout back to back in many, many years. The Fisheads flyshop is well stocked, the restaurant has great and simple food at a reasonable price and the guides are experienced, patient and helpful. This is truly a "do no miss" trip at least one time!!
It was awesome!!! This was the first guided trip I took in my entire life and I wanted to do it with my wife on our wedding anniversary. Bubba was very profesional, knowledgable, and patient. It was mife wife's first time fly fishing and Bubba made sure my wife felt comfortable and was not pressured. It was well worth the 7 hour trip from El Paso. Thanks You Bubba for making our anniversary a memorable one!